"Our rationale is to get outstanding results, thanks to inspired strategies using growth drivers."
Wikane is the first complete and holistic approach to drive your business to its growth potential.
Our approach has enabled a large number of medium enterprises in Europe and internationally to become sizeable SMEs, leaders in their markets. We have woken up some 'sleeping beauties', family-run SMEs or not, ignorant or scarcely aware of the significant potential they were harbouring. We have significantly increased their value, often involving an excellent exit strategy for their owners. Thus, we intervene at four stages in the life of a company: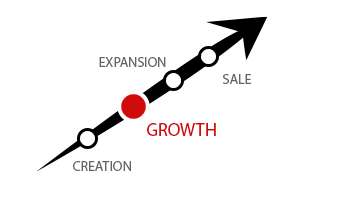 The Wikane package is the only one to take into account the specific characteristics of these businesses, the two most salient being:
The growth of an SME is independent of that of its market; it is a matter of potential and method, not macro economic.
A SME's strategy remains a pipe-dream unless it is aligned with the personal aims of its owner/manager. The strategy is settled on and constructed from the inside but it will gain from being supported by an external partner.
An SME which does not focus on a strategic way forward is condemned to being at the mercy of events.